In this season, we've gotten to see that there's something special about worshiping at home. In Exodus 3, Moses experiences God's presence through a burning bush in the middle of the wilderness. God speaks to him, telling him to take off his sandals because he was standing on holy ground. There's something holy about having an encounter with God from the comfort of our homes with our family around us. God showed up in a very unexpected way for Moses and we love seeing all the ways He's doing that in our lives today as our church continues to meet online!
Even with the beauty of worshiping at home, we have sensed the loss of community. You know, God created us to be social creatures. To do life together! Simply put, we are Better Together. So, on September 20, we are taking four very intentional steps to bring this community back together.

ONLINE CAMPUS LAUNCH
We are excited to announce that the doors of our Online Campus will open! The new online campus will feature: a live chat where you can connect with others, say hi, talk about the message, and get in touch with prayer counselors standing by to talk one-on-one where you can get prayer live.
The Online Campus can be found by visiting: vbumc.online.church

IN-PERSON WORSHIP
For some, nothing compares to meeting in-person and we can't wait to be able to re-open the doors of our Oceanfront Campus again. Our team has worked diligently and prayerfully to find the best way to worship in-person safely and are ready to hold a blended worship service, offered at 10:00 am on Sundays.
For more information on what this will look like, visit: vbumc.org/covid-19

FAMILY MOMENT
What's your favorite part of meeting in-person? For us, it's seeing your smiling faces coming into the building. So we are adding a moment at the beginning of every worship service at our Online Campus, where you will be welcomed to worship by one of the beautiful families that makes up our community.
If your family is interested in welcoming people to worship, visit: vbumc.org/familymoment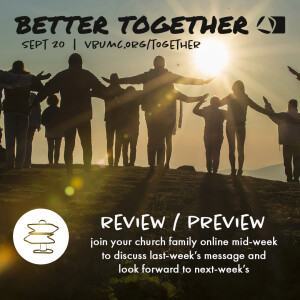 REVIEW / PREVIEW
It's important to process and discuss what we hear during the worship service on Sunday. The Online Campus will feature a mid-week discussion with the teaching team where they'll review last week's message and give a preview of next week's. Through the Online Campus chat, you'll have an opportunity to talk directly to the teaching team and ask questions to further dive deeper into the lesson.
Review/Preview will be held at the Online Campus on Tuesdays at 7:00 pm beginning September 22.