Your children are going to love coming to Virginia Beach United Methodist Church! Kids experience fun and meaningful activities designed to encourage them to explore God's love and discover what God can do through them.
We can't wait to come alongside you to equip and empower your whole family to know, love, and follow God.
---
Check out the children's ministry YouTube channel!
---
If you miss a week or just want to see what we are learning, we've got special worship videos just for kids available on our Virginia Beach UMC Kids YouTube channel! Videos are tailored for different age groups so your kids will get the most out of worship and learn more about God and His love.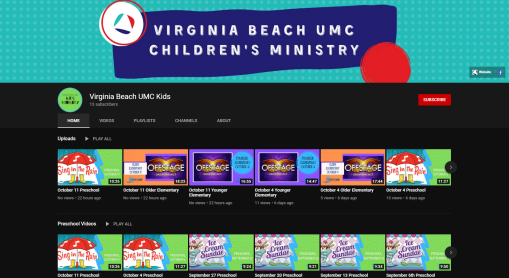 ---
ORANGE STRATEGY
---
Having a good strategy is essential to equip children to grow in their faith.
That is why we use the Orange Strategy and Curriculum from birth to 12th grade. It's a strategic plan for the church and family to partner together to give kids the best potential to grow up following God.

The LIGHT of the CHURCH (yellow) combined with the LOVE of the FAMILY (red) increases the potential to influence a child's life!
CHURCH + HOME = GREATER IMPACT
LIGHT + LOVE = GREATER IMPACT
YELLOW + RED = ORANGE