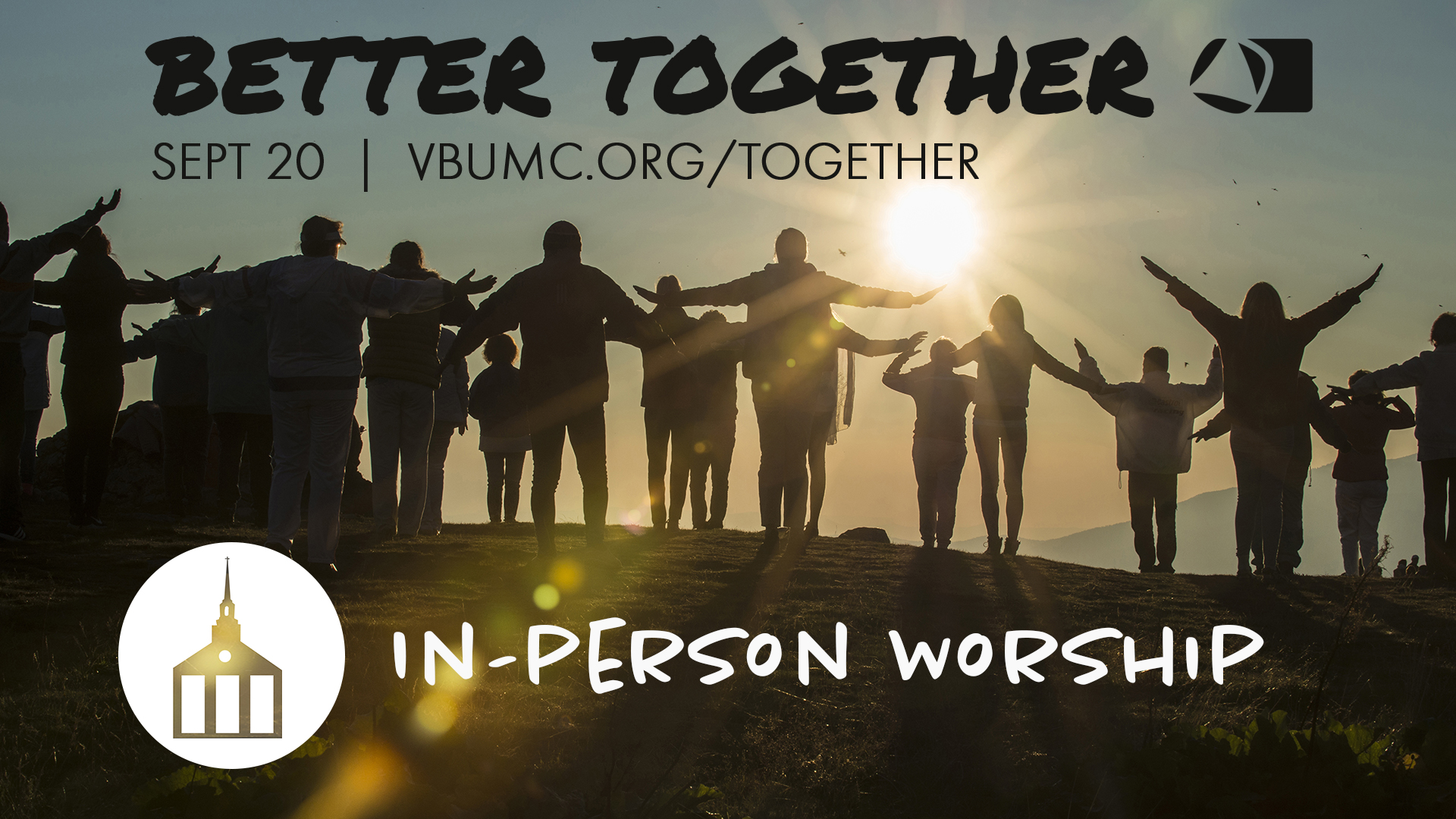 Here you can find everything you need to know about how Virginia Beach United Methodist Church is prioritizing your health and safety as we resume operations on a limited basis. Below you will find our plans that cover guidelines for in-person worship, forms required for attending in-person worship Sunday morning, and other related documents.
These guidelines have been developed by the Healthy Church Plan Team to ensure that Virginia Beach UMC is opened safely as various phases of reopening are executed. The guidelines have been created based on the Virginia Conference Handbook for Local Churches Guidelines, Center for Disease Control (CDC) General Guidelines for Religious Organizations, and the Virginia-Forward-Phase-One-Religious Service Guidelines.
This guidance is based on the recommendations of the guidance groups referenced above and is not intended to infringe on First Amendment rights as provided in the US Constitution.
All decisions about implementing these strategies (e.g., alteration or reduction of services, event cancellations, other social distancing measures) will be made locally, in collaboration with local health officials who can help determine the level of transmission in the community.
Healthy Church Team
The Healthy Church Team was tasked to create a plan for reopening our church in a safe manner. The team members include:
Pastor Mark Miller
Amy Simpson (Church Leadership Council)
Kendall Rasberry (Trustee)
Cliff Cutchins (Lay Leader)
Lee Entsminger (Lay Leader)
Judy Gofus (Lay Leader)
Mike Peterson (Lay Leader)
Sarah Peterson (Lay Leader)
Heidi Wimbush (Lay Leader)
Pam Bentley (Youth Ministry)
Chuck Cassidy (Hospitality)
Mike Felts (Security)
Jodi Fox (Children's Ministry)
Pam Peskoe (Adult & Childcare Ministries)
FAQ
Can I just show up on Sunday?
We ask that everyone pre-register using the link below. We will have limited seating available due to capacity limitations and expect to fill up quickly. The only way to guarantee seating is to pre-register online. Once we reach capacity, we will no longer accept registrations.
What changes can I expect?
We will have one entrance and one exit to manage the flow of traffic. We ask that everyone park in the 19th Street parking lot, put on your mask as you exit your vehicle, and enter at the main sanctuary entrance. Once you arrive, a member of our welcome team will confirm your registration and an usher will escort you to the next available seat. If you need a Bible during worship, please bring one from home as all Bibles and Hymnals have been removed. At the conclusion of worship, our ushers will dismiss everyone row by row and everyone will exit through the Welcome Center glass doors. We ask that everyone maintain 6 feet of social distancing at all times.
Are masks required?
Yes, masks are required for every person in attendance. There are no exceptions; however, if you are unable or uncomfortable wearing a mask, we will continue to offer our virtual worship experience online.
Will coffee service be available?
Unfortunately, food and drinks are not permitted on site at this time.
Is singing allowed?
At this time, singing is not permitted; however, you are encouraged to hum along and worship in your heart.
What is available for children?
At this time, children age 5 and over will be permitted to worship in the sanctuary with their parents. All children will be required to wear a mask for the duration of the service. Children's experiences will also continue virtually. We will not be offering a special children's experience on site. We will continue to monitor this situation and will only resume children's experiences when it is deemed safe to do so. No worship bags will be available. If you plan to bring children, please prepare them for the experience in advance.
Forms
WE ARE FULL - September 20
We regret that due to current social distancing requirements, we have reached capacity for the number of persons who can worship in our Sanctuary this coming Sunday, Sept. 20. You will be able to register for next Sunday, Sept. 27 beginning at 2:00 pm on Sunday the 20th.
Online worship will continue to be available.
The button above should automatically take you to the form for Virginia Beach UMC. Should you need to manually choose the church, our district is Elizabeth River and we are listed as Virginia Beach UMC.
The form must be filled out each week prior to attending worship, and must be completed by the Wednesday prior to the Sunday you wish to attend no later than 8:00 pm.
By registering for in-person worship, you affirm the statements in the above poster to be true. You will be asked to confirm your acknowledgment upon arrival for in-person worship.
Plans
This document outlines the full guidelines of our in-person worship plan as approved by the bishop. If you have any questions, please feel free to contact Pam Peskoe.
Traffic Flow Map