Here you can find everything you need to know about how Virginia Beach United Methodist Church is prioritizing your health and safety as we resume operations on a limited basis. Below you will find registration for in-person worship, our plans that cover guidelines for in-person worship, and other related information.
---
UPDATE 1-14-2021
This past week a staff member came down with flu-like symptoms. That person has tested negative to COVID but because the person had interaction with a large number of other staff needed to facilitate worship, we have chosen to act with an abundance of caution, and close the church building for a thorough cleaning protocol. This includes the cancellation of our in-person worship for this Sunday, January 17. The church building is closed Monday, January 18 in observation of Martin Luther King, Jr. Day. Please be sure to join us in worship online Sunday at our Online Campus.
UPDATE 12-10-2020
Effective December 14th, Governor Northam is enacting further steps that are being taken to slow the spread of COVID-19. At this time, these measures do not affect our In-Person worship services. We are in continual conversations with the UMC District and Bishop as well as state and local officials to ensure we are in full compliance with the measures being taken. Any changes or updates will be announced via email, our social media channels, and on this page.
Currently, we are offering 3 identical in-person services on Christmas Eve at 4pm, 6pm & 8pm. Registration is required for all services. Due to social distancing policies seating is limited. If a particular service has reached capacity when you register you will be asked to sign up for another. In respect to others, please register only those persons who will be attending; if you have a cancellation you can notify the church office ( ) by noon on Christmas Eve in order to make room for others. We are closely monitoring the COVID-19 situation and in the event in-person services are canceled, we will notify all registrants via email and if a phone number is provided, SMS text message. A message will also be posted on this page and on all social media channels. Services will be held at these times on our online campus regardless.
UPDATE 11-19-2020
Effective 11-15-2020, Governor Northam enacted new restrictions designed to stem the rise in COVID-19 cases. While the new restrictions do not change the ways we are doing In-Person worship or holding events in the building, we do want to take this time to remind everyone of the restrictions and guidelines we do have. As one approaches the building, they must secure a mask or face covering over their nose and mouth and maintain wearing this covering at all times while in or around the building. In addition, guest must maintain six feet distancing at all times and limit social interactions.
While we love to see people fellowshipping and coming together on Sunday, we must keep in mind that these guidelines are for everyone's safety. While in the sanctuary, please do not enter or sit in a row marked "Row Closed" even if just to say hi and catch up with a friend. These rows are closed and sanitized to prevent the spread of COVID and to help us maintain social distancing. During this time, the lobby and gathering areas of the church are simply passageways. We must ask that there's no congregating or socializing in these spaces. Instead, we invite guests to exit the building and fellowship in a socially distant manner in the parking lot and areas outside.
We want nothing more than to be able to come back in full force: socializing and hugging again. Unfortunately, we are just not there yet. We are thankful for the ways in which we have been able to gather again and ask for your assistance in helping us maintain these guidelines and restrictions so that we can maintain joining together in-person.
---
REGISTRATION
The registration form must be completed each week prior to attending worship. We highly encourage completing the form by the Friday prior to the Sunday you wish to attend no later than 6:00 pm.
---
FAQ
Can I just show up on Sunday?
We ask that everyone pre-register using the link above. We will have limited seating available due to capacity limitations and expect to fill up quickly. The only way to guarantee seating is to pre-register online. Once we reach capacity, we will no longer accept registrations.
What changes can I expect?
We will have one entrance and one exit to manage the flow of traffic. We ask that everyone park in the 19th Street parking lot, put on your mask as you exit your vehicle, and enter at the main sanctuary entrance. Once you arrive, a member of our welcome team will confirm your registration and an usher will escort you to the next available seat. If you need a Bible during worship, please bring one from home as all Bibles and Hymnals have been removed. At the conclusion of worship, our ushers will dismiss everyone row by row and everyone will exit through the Welcome Center glass doors. We ask that everyone maintain 6 feet of social distancing at all times.
Are masks required?
Yes, masks are required for every person in attendance. There are no exceptions; however, if you are unable or uncomfortable wearing a mask, we will continue to offer our virtual worship experience online.
Will coffee service be available?
Unfortunately, food and drinks are not permitted on site at this time.
Is singing allowed?
At this time, singing is not permitted; however, you are encouraged to hum along and worship in your heart.
What is available for children?
At this time, children of all ages will be permitted to worship in the sanctuary with their parents. All children will be required to wear a mask for the duration of the service. Children's experiences will also continue virtually. We will not be offering a special children's experience on site. We will continue to monitor this situation and will only resume children's experiences when it is deemed safe to do so. No worship bags will be available. If you plan to bring children, please prepare them for the experience in advance.
---
Guidelines
By registering for in-person worship, you affirm the statements in the above poster to be true. You will be asked to confirm your acknowledgment upon arrival for in-person worship.
This document outlines the full guidelines of our in-person worship plan as approved by the bishop. If you have any questions, please feel free to contact Pastor Mark Miller.
---
Traffic Flow Map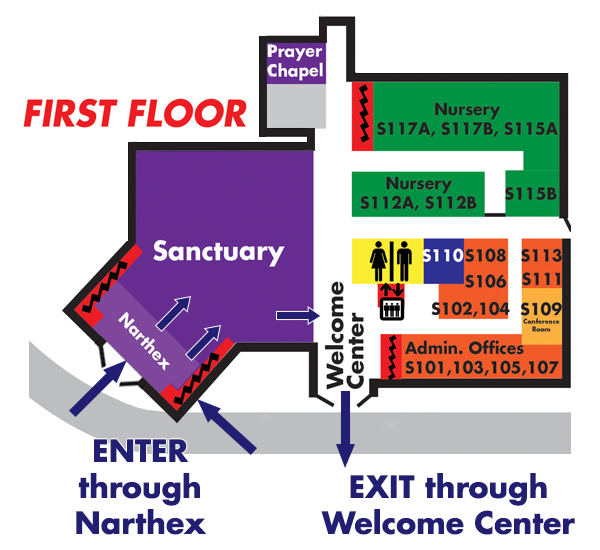 ---
These guidelines have been developed by the Healthy Church Plan Team to ensure that Virginia Beach UMC is opened safely as various phases of reopening are executed. The guidelines have been created based on the Technical Assistance Manual and Virginia Conference Handbook for Local Churches Guidelines, Center for Disease Control (CDC) General Guidelines for Religious Organizations, and the Reopen Virginia Plan.
This guidance is based on the recommendations of the guidance groups referenced above and is not intended to infringe on First Amendment rights as provided in the US Constitution. All decisions about implementing these strategies (e.g., alteration or reduction of services, event cancellations, other social distancing measures) will be made locally, in collaboration with local health officials who can help determine the level of transmission in the community.
Healthy Church Team
The Healthy Church Team was tasked to create a plan for reopening our church in a safe manner. The team members include:
Pastor Mark Miller
Amy Simpson (Church Leadership Council)
Kendall Rasberry (Trustee)
Cliff Cutchins (Lay Leader)
Lee Entsminger (Lay Leader)
Judy Gofus (Lay Leader)
Mike Peterson (Lay Leader)
Sarah Peterson (Lay Leader)
Heidi Wimbush (Lay Leader)
Pam Bentley (Youth Ministry)
Chuck Cassidy (Hospitality)
Mike Felts (Security)
Jodi Fox (Children's Ministry)
Pam Peskoe (Adult & Childcare Ministries formerly)