What is Confirmation?
Confirmation is a small group program for students to study the beliefs of the United Methodist Church as well as what it means to be a Christian. Confirmation classes are offered each year for students who are ready to take personal responsibility for the vows made on their behalf at their baptism and also for those who have not yet been baptized. Upon completion of Confirmation, students are given the opportunity to proclaim their personal commitment to follow Christ and join the community of Virginia Beach UMC.
Who is eligible for Confirmation?
Confirmation is open to all students in grades 6-12 who feel ready to explore this step of faith towards membership in the church.
Who is in the 2021 Confirmation Class?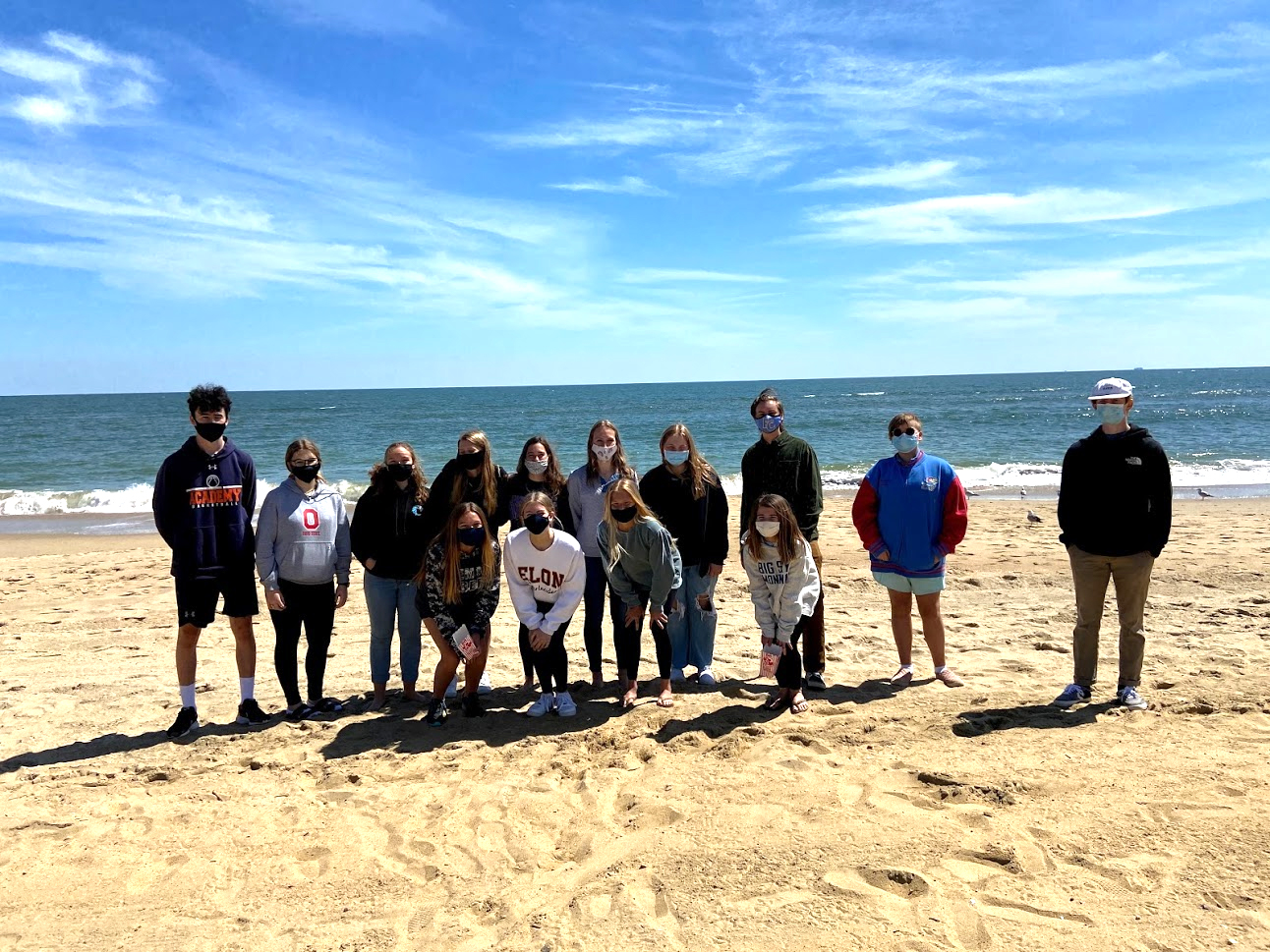 Karson Adkins
Mentored by Maddy Crane
Karson is 15 and attends First Colonial High School where she is a sophomore. She enjoys playing tennis and going to the beach. Karson has attended VBUMC since she was 3 years old and was a part of the Children's Choir with Charlotte and Ms.Susan. She started attending Youth Group when she was 14. Karson volunteers at the Food Pantry, Love and Caring ministries, and Judeo-Christian Outreach Center. Through Confirmation class she learned a lot about following God's path and being a true believer of God.
Carrie Collenberg
Mentored by Bree Muelier
Carrie is a freshman at Norfolk Academy. She enjoys sports, music, and reading. Carrie does sailing and rowing at school, surfs in the summer, and is active in Youth Group. Carrie is looking forward to learning more about her faith.
Whitney Collenberg
Mentored by Gena Allen
Whitney is in the 9 th grade at Norfolk Academy. She likes playing lacrosse, tennis, and swimming and also likes going out on the boat with her friends. Whitney has attended VBUMC for a long time. Confirmation has helped her learn more about her faith.
Ethan Eveleigh
Mentored by Lawrence I'Anson
Ethan is a freshman at Norfolk Academy where he plays football and basketball. He is also a member of the rowing team. Ethan likes the sense of community at VBUMC and is looking forward to being Confirmed.
Sydney Joynt
Mentored by Karen Millman
Sydney is in 9th grade at Norfolk Academy and enjoys playing tennis and swimming
competitively. She has continued to grow spiritually through the Confirmation process while learning many new things.
Madeleine Keogh
Mentored by Laura Beth Lawver
Madeleine Keogh is in the 9th grade at Cape Henry Collegiate. She loves playing and watching sports, particularly lacrosse and basketball, and she officiates lacrosse games for younger girls' teams. Her favorite subjects are English and History, she is an officer in the 9th grade SCA, and she is participating in the Global Scholars program. Maddy enjoys the welcoming community of VBUMC and is excited to continue her faith journey through Confirmation. Special thanks to her Mentor and all-around great lady Mrs. Lawver!
Hunter Lawver
Mentored by Kristin Sheely
Hunter is an 8th grader at Old Donation School. She enjoys playing sports, especially
soccer, and she loves spending time with her friends. Hunter loves the VBUMC community and the opportunities that it gives to grow closer to God.
Nick Lundgren
Mentored by Trotman Simpson
Nick Lundgren, is in the ninth grade in the Legal Studies Academy at First Colonial High School. He enjoys fishing, golfing, and cooking. Nick is excited to use this opportunity to grow in his relationship to God and the church.
Landry Meyer
Mentored by Cathy LaRue
Landry is a sophomore at First Colonial High School where she plays on the school field hockey team and Saints Club team. She loves going to the beach, going on the boat, and fishing with family and friends. She also works at Hunt club Farm during the summer and for special events. Landry is really excited to be taking these next steps in her faith and couldn't be more excited to be joining such a great church.
Marshall Poteet
Mentored by Chuck Cassidy
Marshall is in the 9th grade at Kellam High School. He likes playing basketball,
skateboarding, surfing, and just chilling out. Marshall is also involved with the church
Boy Scout troop. Confirmation has helped him find a closer way to be with Jesus.
Chloe Purvis
Mentored by Susan Herring
Chloe is in the 8th grade at Corporate Landing Middle School and likes riding bikes,
swimming and baking. Chloe has lived in Virginia Beach and attended VBUMC her
entire life.
Caroline Sumner
Mentored by Sara Sumner
Caroline is in the 9th grade at First Colonial High School. She is a cheerleader at FCHS and also cheers for her competition team. Caroline has enjoyed getting closer to God and learning more about faith through Confirmation.
Sadie Turner
Mentored by Jeanette Cole
Sadie is in 7 th grade at Princess Anne Middle School. They enjoy running, biking, walking and sleeping. Sadie participates in Youth Council, viola lessons and swim team and also likes volunteering, drawing, singing in Youth Band, and 3D modeling. Through Confirmation, Sadie has gotten closer to God.
Corinne White
Mentored by Jenn Dina
Corinne is a 6th grader at Great Neck Middle School. She enjoys dancing, surfing,
snowboarding, and spending time with friends and family. Corinne is excited to learn
more about Jesus and what it means to be a Christian. She would also like to learn
more about the church and the Bible.
Natalie Whiting
Mentored by Amanda Fisher
Natalie is a freshman at First Colonial High School. She enjoys music, playing travel
softball and spending time with friends. Her favorite thing about VBUMC is the
connection she has made with her peers and the sense of community.
Resources
Schedule
Sunday, May 2
Confirmation Sunday